We entered the North Cape Center and enjoyed the midnight sun. The center is beautifully located on a rock 307 meters above sea level. Of course there is a lot of crappy tourist shops in there, but there is a quite good restaurant as well and the best: a five screen cinema! They are only presenting one film: The four seasons on North Cape. In return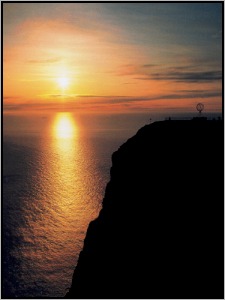 you are surrounded by the screens, why it gives you the illusion of being a part of the film. Nice!
BTW: The northernmost point of Europe is Kniv- skjellodden a little north west from the North Cape Center. A well marked hiking path starts on the left side of the road right before the center. If you have the time - go there...